What is it?
Leadership Academy is an in-class training program engaging students in critical thinking and habit formation. Designed to bridge gaps between academic achievement and personal development through situational training.
Leadership Academy reaches kids and helps them grow.
Research demonstrates, the lack of social and emotional readiness keeps kids from learning. In addition, many of cultures affects today cause stresses that block learning. Poverty and its web of entanglements is the single largest culprit. In combination, the result is devastating. Our aim is to help kids see a path forward, and learn to be overcomers personally and in community.
Preparing kids to be curious learners, holistically minded, and sure of their individual value positions them to grow and contribute to the world around them. This, creates a society safe, healthy and purposefully good for all.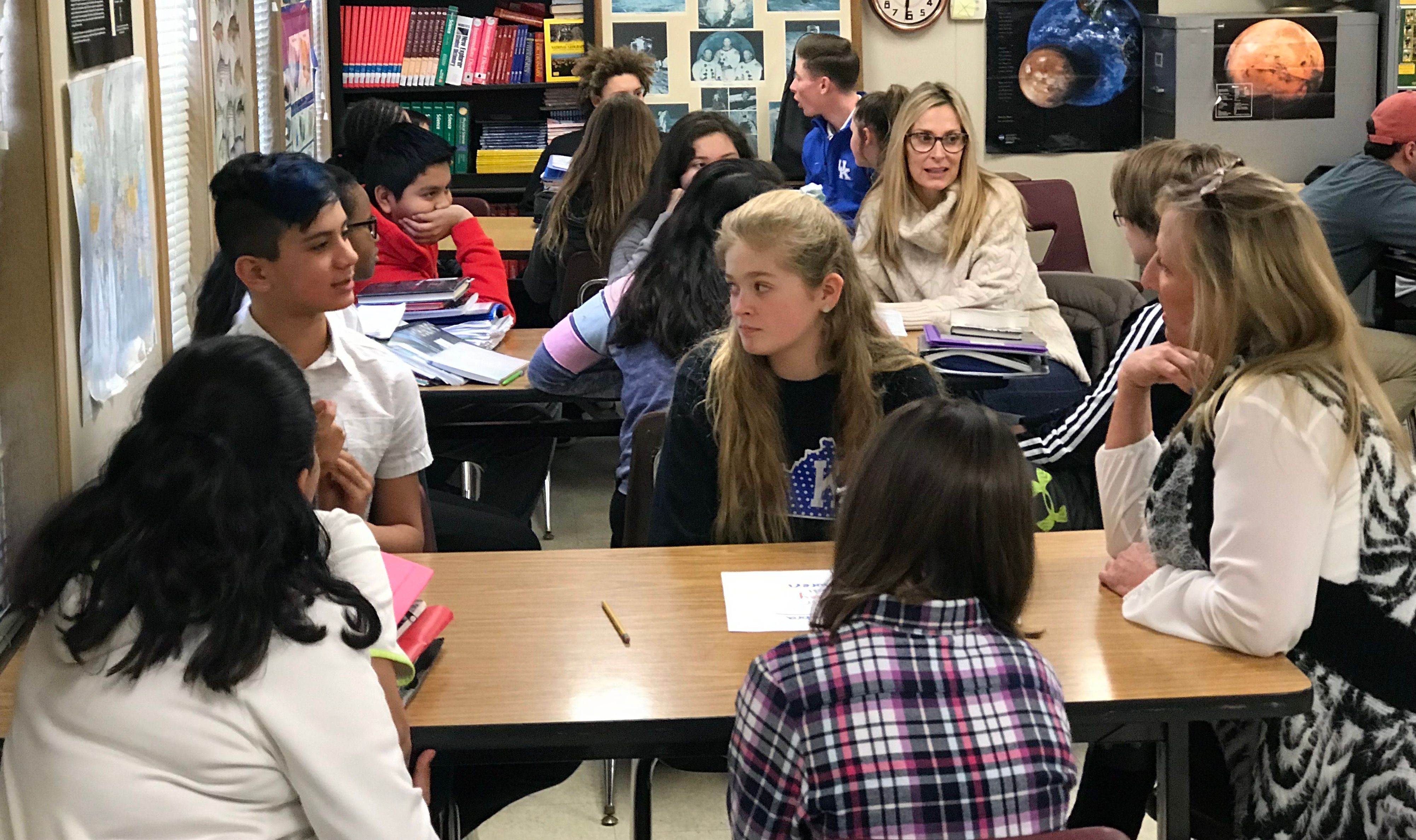 Why does it matter?
Excellent scholastic achievement depends on student responsiveness and initiative. 
Self awareness combined with social awareness helps kids be attuned and sensitive to the world around them equipping them to grow and learn. 4Kids through Leadership Academy is empowering students to be leaders who will impact and build our world!
Research shows us developing kids in three key areas impacts the Social Intelligence necessary and foundational for student success. Our focus is on:
Mindsets - mindsets matter, they represent what a student thinks or believes
Do they think they can be successful?
Do they think they can learn and grow? 
Do they think they have the capacity for personal excellence?
Grit - ability to persevere, internal possession of focus and determination
How hard will a student try, can they overcome obstacles?
What is their capacity for failure that proceeds to success?
Will a student's internal grit equip them to reach long term goals?
Habits - personal practices and actions, patterns for living 
Are a student's habits leading them to measurable personal success?
Are they equipped socially and emotionally for positive, personal interactions?
Do they possess habits to sustain development to highest personal potential?
It is through learning and practice that Social Intelligence is developed. Ensuring every student has opportunity to grow in social and emotional learning equips personal development positioning them to be effective academic learners.
Key Teaching:
Leadership Academy imparts a Mindset of Potential helping kids understand they are each equipped with the capacity for personal excellence. Greatness is the discovery and attainment of one's personal best. Believing in each human's inherent goodness and potential for self-development Leadership Academy imparts an "Expectation for Excellence." Every student is invited to believe in humanity's inherent potential for moral uprightness, positive personal contribution and our mutual responsibility to make the world good for all people. 
Building Grit or the inner capacity to focus on a goal and purposefully advance towards its achievement is the next step in Leadership Academy. Achieving our potential for individual and collective excellence, the result of our mindset work, becomes our common goal. A unique camaraderie is developed among students as they work together toward this end. Personal excellence in community targets amazing results and opens students minds to a vista of greatness they can help achieve. A world of mutual, collaborative development is the goal.
Thirdly, Leadership Academy seeks to impact student Habit formation. Habits are learned practices we eventually repeat automatically. Literally, they are behaviors etched into our neural pathways. Significantly, during the brain development of an adolescent, the timing is optimal for social and emotional learning to build behaviors which will positively impact kid's life choices. Our goal is to teach habits that build socially responsible citizens for our community and the greater global world!
How does Leadership Academy work?
Designed as a weekly class for students entering middle school, Leadership Academy enhances basic school curriculum. Centering around the targeted areas for personal development, 27 inter-active lessons build cumulatively to empower students. Self and Social awareness skills work together to develop student's Social Intelligence. Up to 6 supplementary lessons can be used to augment the basic program. 
Suggested class size is from 16 to 28 students. The program's design is interactive engaging the whole class but utilizing small groups on a weekly basis. These small groups are the work horse of the program. Through facilitated interaction with the curriculum the 4Kids Team ensures the effective engagement, learning and development of all students. The key to student  transformation is safe peer group discussion. Literally, we are training leaders while facilitating their development together. 
The 4Kids Team Leader guides the weekly lesson while 4-6 4Kids mentors lead the small group work. Mentors are carefully screened and trained to ensure their ability to impart the curriculum's core values.  A ratio of 1 mentor to 4-5 students is optimal. Small group monitoring is the responsibility of the Team Leader. They are looking for student engagement, adherence to the Social Intelligence values, and growth in community.  
Classroom teachers are invited to participate, building relational trust with the students.
The overall objective is impartation of the "Expectation for Excellence" and the development of a community purposed to grow together and sustain each other.
Where is the program run?
Optimally, Leadership Academy is held in typical student classrooms during the school day. Once a week, the 4Kids Team joins the room for the week's activities. Ideally, the room is equipped with audio-visual technology as content is supplemented with music and videos to enhance learning. Desks or tables and chairs will be reconfigured to support small group learning. 
Summary
The key to learning anything is attitude. An attitude of expectancy is established first with administrators and teachers. Goals and objectives are shared, a common language learned and the resulting collaborative partnership is unique. Parents are included through information sharing and ideally an interactive student managed website. 
In this age of simultaneous information sharing, mutually supportive partnerships are paramount to success!
 
Empowering Kids Now for a Bright Future is a common goal. How will you participate? 

Leadership Academy - Curriculum, Sample Lessons and Outcomes